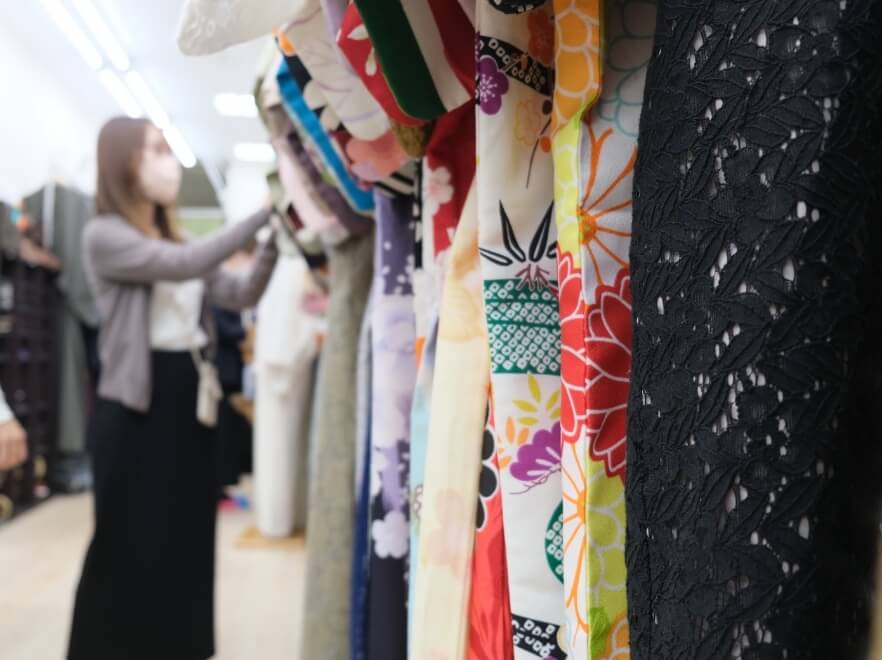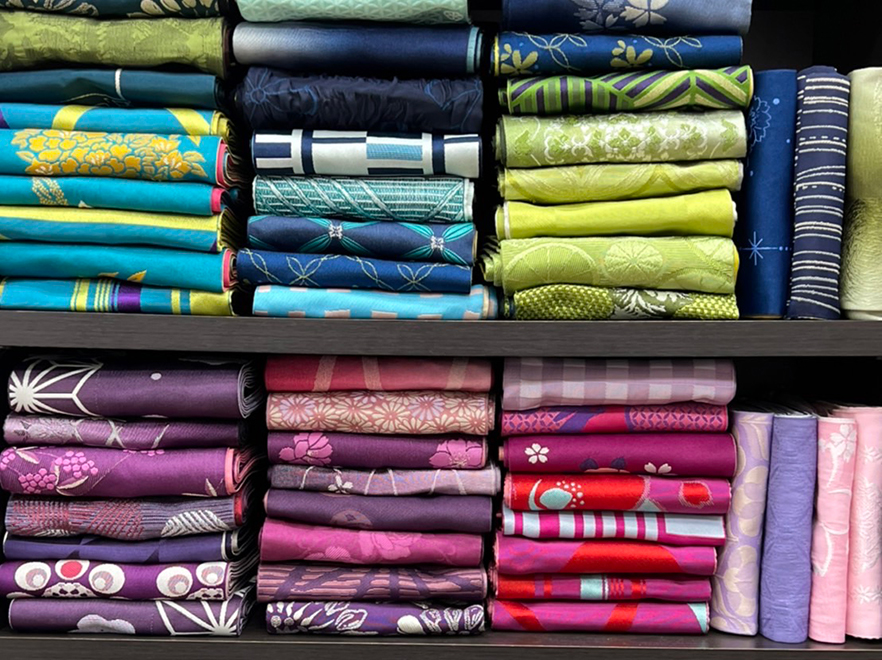 Why we recommend "WARAKU" Kimono rental in Asakusa
1. all prices are the same no matter which kimono you choose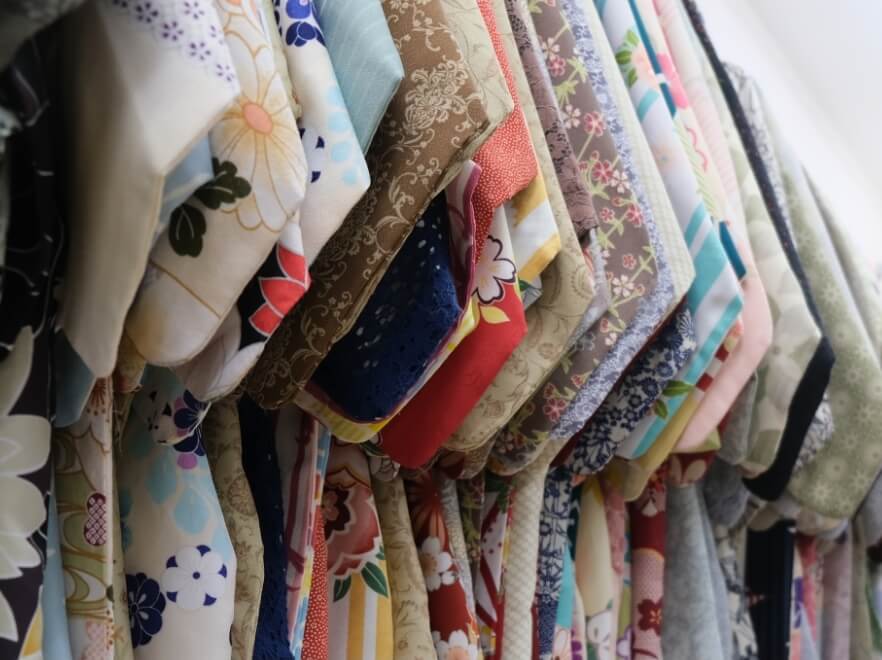 More than 500 types of kimonos, including popular lace kimonos and antique kimonos that tend to be optional, are all the same price no matter which one you choose. There are also more than 150 types of obis to choose from, so the range of coordinating options is endless. Lace kimonos are available in a variety of colors, from standard white to beige, navy, black, light blue, smoky red, gray, and more. You can enjoy your favorite Kimono coordination without worrying about the price. We recommend Kimono Rental WARAKU if you want to use cute kimonos and yukatas at a reasonable price.
2. 1-minute walk from Asakusa Station and 3-minute walk to Sensoji Temple and Kaminarimon Gate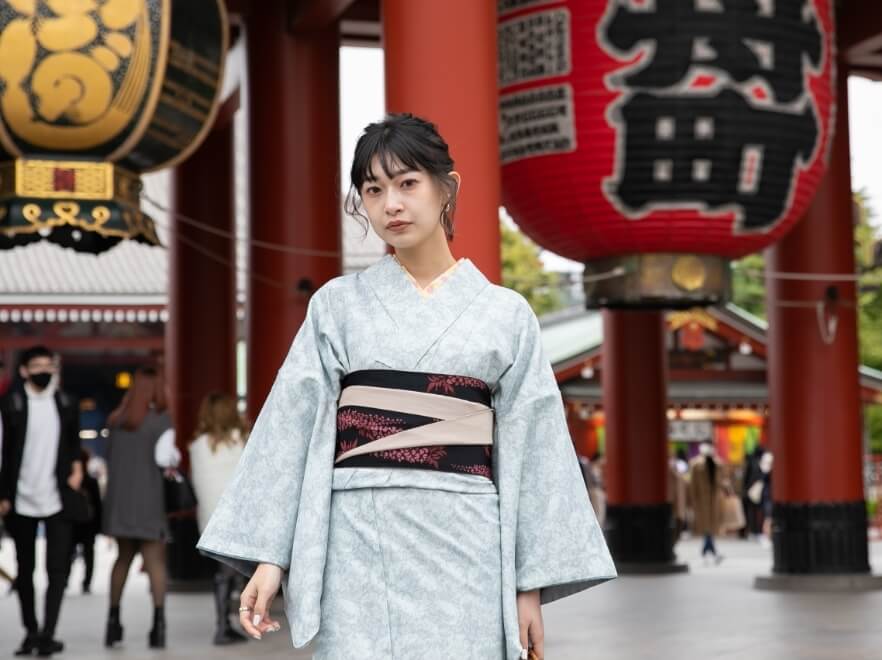 Kimono Rental Waraku is near the station and has excellent access to major sightseeing spots such as Sensoji Temple and Kaminarimon. If this is your first time to rent a kimono and explore in an unfamiliar kimono, we recommend a store near the station.
The golden route for sightseeing in Asakusa is from Kaminarimon through Nakamise to Sensoji Temple. We recommend this store for a stroll in Asakusa kimonos.
We receive many comments from customers who have visited our restaurant, such as "I could easily find the location of the restaurant" and "I was able to visit many tourist spots," etc. They are glad that the restaurant is located near the station.
It is difficult to walk around in an unfamiliar sightseeing area while looking at a map. That is why we recommend Kimono Rental Waraku, which is close to the station and convenient for sightseeing.
3. a full range of special plans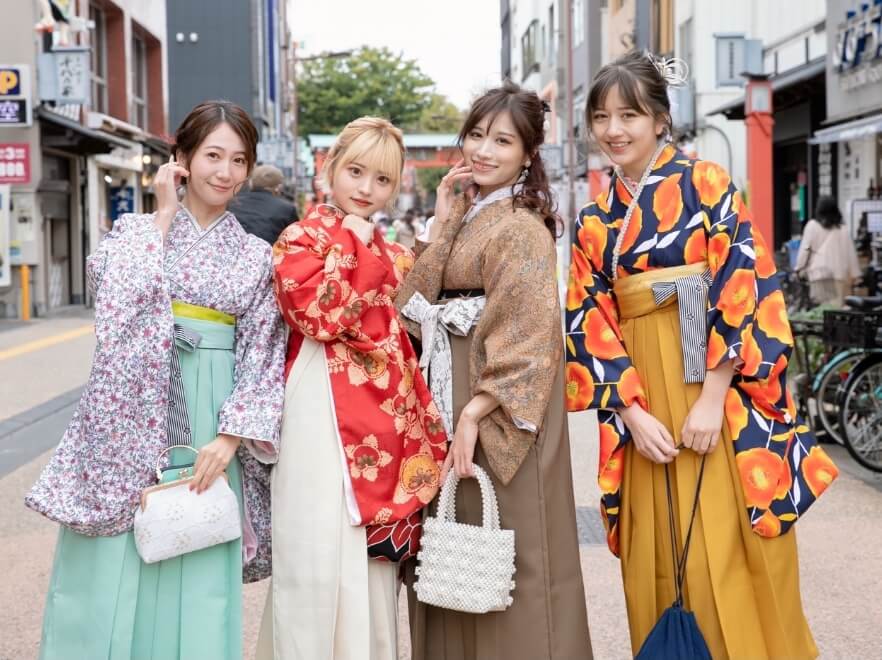 We have a wide variety of plans to save money and use Asakusa kimono rentals wisely, including the "Student Discount Plan," which allows students to use women's kimonos regardless of age or nationality upon presentation of a student ID card, the "Couple Plan," which is much cheaper than booking men and women separately, and the "Group Plan," which offers discounts for groups of three or more people. Please use these plans for various situations such as a surprise kimono date with your boyfriend, a kimono stroll with your friends, or a birthday celebration for your family.
Our popular recommended plan
Student Discount Plan" available upon presentation of student ID
Couple Plan" is much more economical than making separate reservations for men and women
Group Plan" with discounts for use by 3 or more people
(4) Comic price, so you don't need to bring anything.
The set includes a complete set of kimono rental and accessories rental, and baggage storage is free of charge! You can use the service without any preparation. For women, a cute hair set is also included, so you can use our service with peace of mind at a reasonable price.
Kimono Rental WARAKU Set Contents
Women: Kimono / Obi / Long underwear / Underwear / Tabi / Sandals / Hair ornament / Drawstring + Dressing + Hair set + Baggage storage
Men: Kimono/ obi/ half underwear/ tabi/skirt/ geta/ kinpuku + dressing + baggage storage
*Haori can be rented if you like.
Kimono coordination with the latest trends is possible.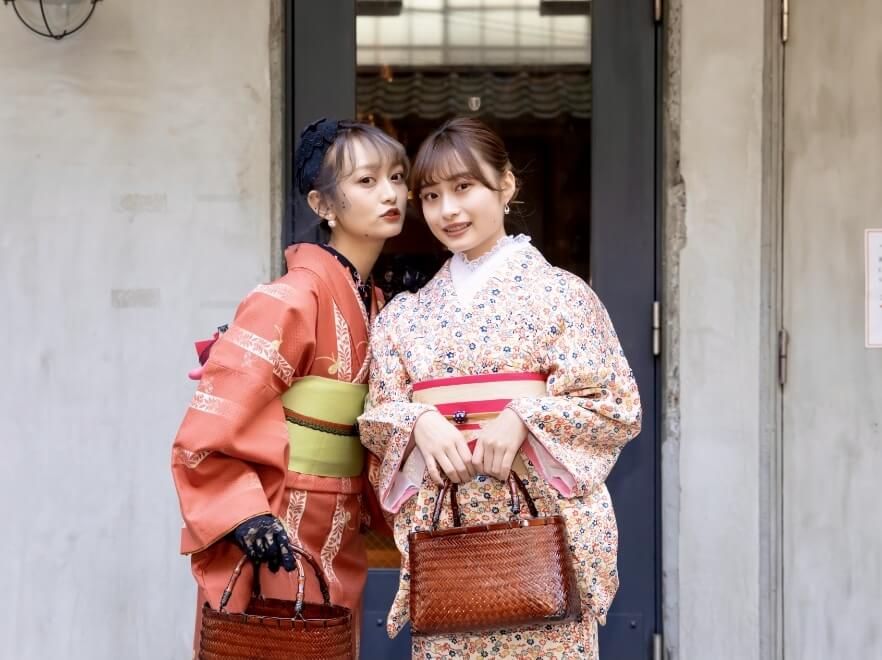 Kimono coordination is always in fashion, and what is popular now may look old a few months later, or conversely, a kimono that was worn long ago for fun may be in vogue now. At Kimono Rental Waraku, we always check SNS! We always collect the latest information on kimono coordination, and always try to introduce new kimonos and accessories that match the latest trends. We always introduce new items by speeding up our seasonal stocking cycle, so you can wear the most trendy kimonos of the moment.
6. a full lineup of accessories to match kimono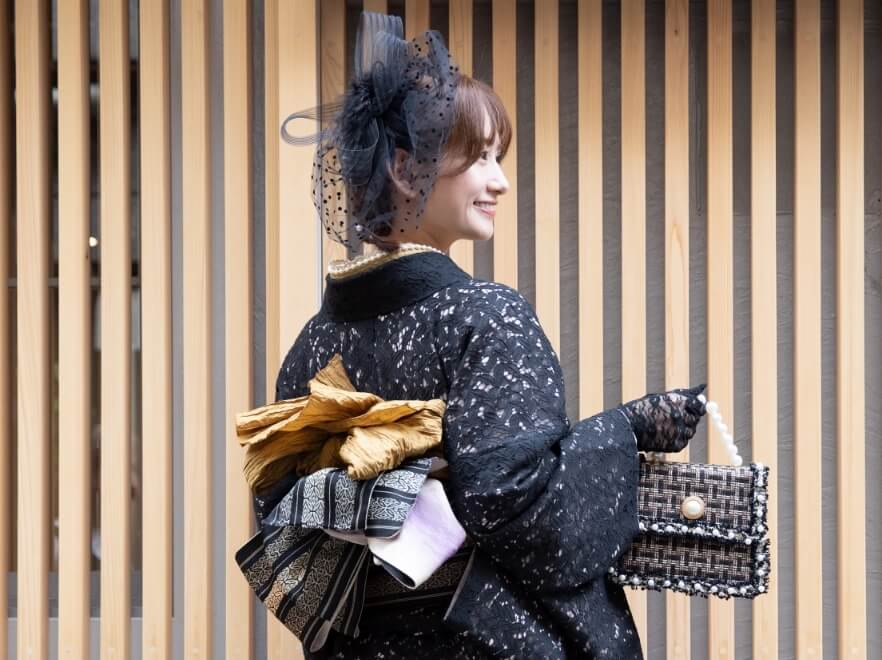 It is a matter of course that there are many kinds of kimonos, but if you want to enjoy kimono rental, there must be many kinds of accessories as well.
At Kimono Rental Waraku, we have many trendy fashion items that are not limited to kimono. As long as you keep the basics in mind, you can freely coordinate your kimono. WARAKU's kimono rentals add trendy fashion items to traditional kimonos. Some customers choose the "hair pin" that comes with their hair set, while others go for a "headdress" for a cool look. There are more than 100 kinds of accessories for hair sets alone! Let's stroll around the streets of Asakusa in your favorite Kimono coordination.
7. 24-hour reservations available and same-day reception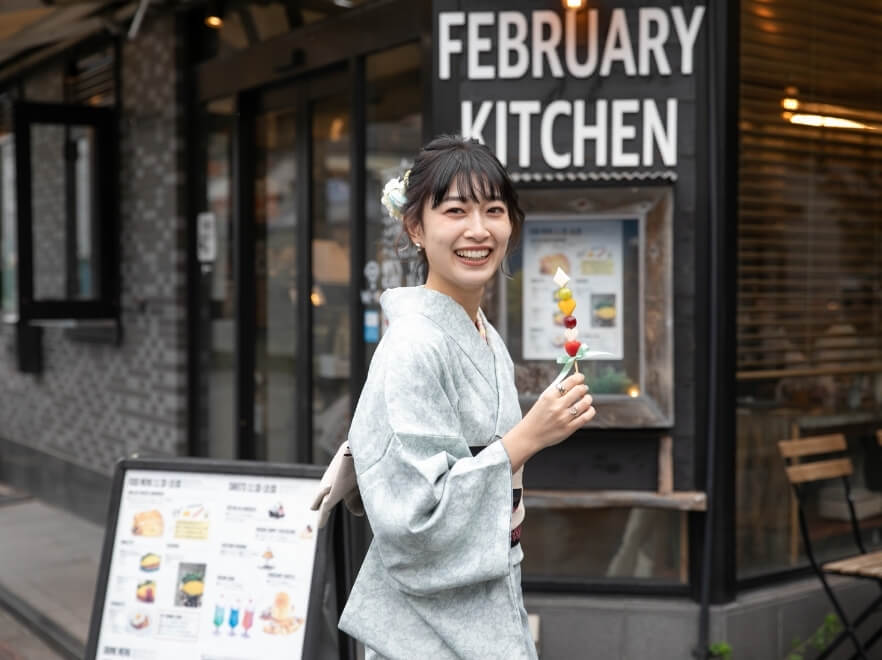 Reservations can be made via the web, so you can make reservations 24 hours a day, from anywhere.
The latest reservation information is constantly updated, so you can check available dates in real time.
Reservations can also be cancelled online with no charge if cancelled up to one day in advance. Moreover, reservations can be made up to one hour in advance, making it easy to make reservations on short notice via the web.
*Reservations may not be possible due to congestion on the day.
8. beautiful and suitable for sightseeing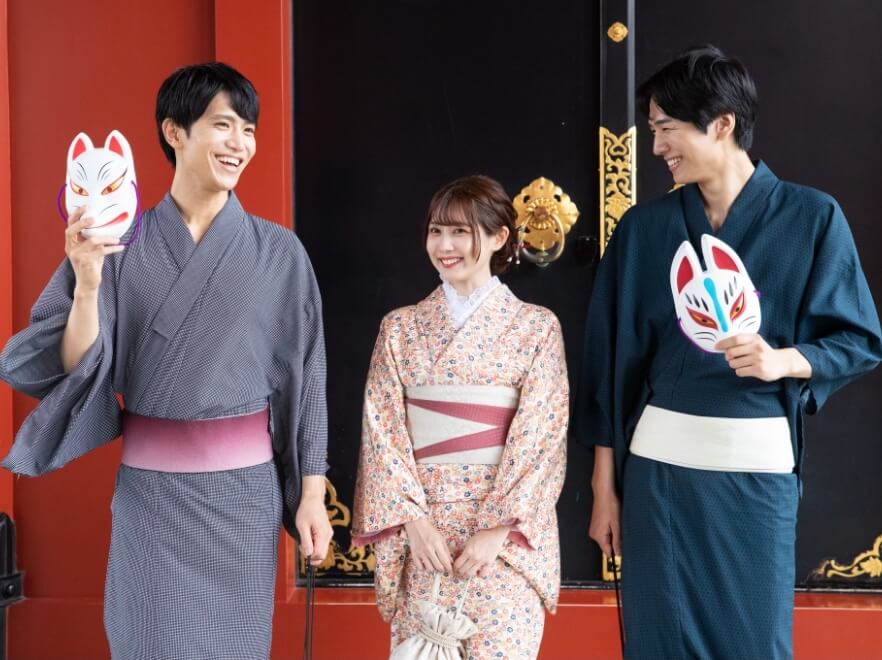 We have many nationally certified kimono stylists on staff. Balance is the key to dressing for easy walking and sightseeing.
A beautiful and clean kimono requires a tight and firm fit, making it difficult to walk and to maintain posture. On the other hand, a kimono suitable for strolling should be worn a little loosely so that the body can be free and it is easy to walk.
We try to find a balance between the two and to dress them beautifully.
We solve all your problems! Kimono rental concerns in Asakusa
Kimono rental on rainy days, worried about staining the kimono
We offer insurance for kimono (+330 yen) so that you can use our store even on rainy days. This insurance covers almost all of your kimono, yukata, and accessories not only on rainy days, but also in the event that they get dirty or damaged, with no deductible. By purchasing this insurance, you can enjoy your walks in kimono without any worries. In addition, on rainy days, a limited number of umbrellas that match kimono are available for rent free of charge. The Shin-Nakamise shopping street, which is just a short walk from our store, has an arcade, so you can enjoy kimono rentals without getting wet even on rainy days.
---
Worried about whether there is a kimono that fits me
We have over 500 types of kimonos and yukatas, including a wide variety of popular lace kimonos as well as retro, simple, and classic kimonos. Therefore, we are sure that anyone can find a kimono that suits them. There are also more than 100 types of obis to match kimonos, so the patterns of coordination are endless. Unlike Western-style clothing, there are no mismatched combinations. You can even choose a color or pattern that you do not usually wear!
---
Can junior high or high school students borrow without a guardian?
Our most popular kimono rental plan, the "Student Discount Plan," allows junior high and high school students to use a kimono for women as long as they have a student ID. Of course, you do not need to be accompanied by a parent. We hope you will take advantage of our kimono rentals for a memorable trip during the graduation season, or for activities during spring or summer vacations.
---
How many types of large sizes are available?
Our larger sizes have fewer varieties than other sizes, but we can create special-order designs that are not available at other stores, and we carry many special kimonos carefully selected by our female staff, including sharp designs that can be expected to tighten up the appearance and cute, girly kimonos. We also have a wide variety of kimono designs that are carefully selected by our female staff members. We also have cute designs that are only available in larger kimonos, which we highly recommend. We also have a track record of being used by Instagrammers with marshmallow body shapes. If you have any concerns about "whether it will fit my body shape…", please contact us.
---
Winter kimono rentals, how to protect yourself from the cold?
Winter in Japan is very cold. Our overseas customers often say this after using our services. For this reason, we recommend that our guests take measures to keep warm. You can bring your own underwear such as HEATTECH, or a body warmer, or you can bring your own scarf or stole. Although it is an option, we have a variety of feathers, our most popular fluffy fur scarves and colorful scarves. We have many customers using this option during the winter season, so please feel free to ask our staff in advance if you would like to use this option.
Comments from customers who used Kimono Rental Waraku Asakusa Store
Our restaurant opened in Asakusa in 2018 and has served a variety of customers.
We want our customers to be satisfied with our services.
We believe in providing customer service that makes people want to use our services again.
We continue to strive for customer satisfaction through trial and error, with mistakes and failures. In the Corona Whirlpool, the tourists' footsteps were diverted away from Asakusa, and rental kimono stores were also hit hard.
Even so, we have received warm words of encouragement from our customers and have continued to do our best as a staff to operate with the motto of "for our customers".
After dressing and departing, the customer would say, "That was fun. Thank you very much. I will use your service again. This is a great encouragement for our staff.
We hope that our store will play a greater role in tourism in Asakusa and expand the Japanese culture of kimono not only to foreign customers but also to young people in Japan.
In this issue, we would like to introduce some excerpts from the handwritten messages we received from such customers.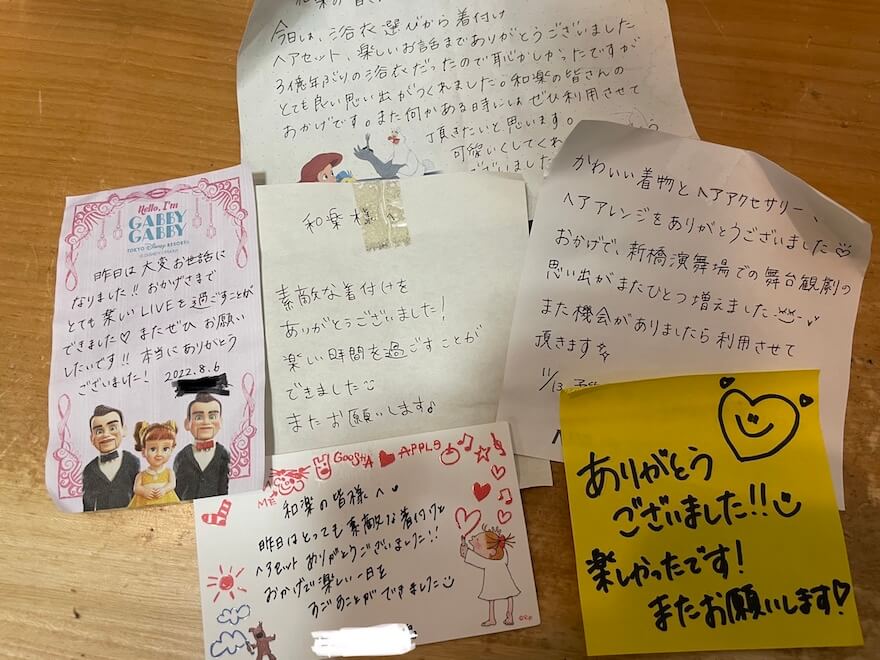 Thank you very much for all your help today, from choosing a yukata, to dressing and hair-set, to our fun conversation.
I was embarrassed because I hadn't worn a yukata in a long time, but it was a great memory for me.
Thank you for the cute kimono, hair accessories and hair arrangement. Thanks to you, I have one more memory of watching a stage performance at the Shinbashi Enbujo.
Thank you for the wonderful dressing and hair set yesterday! Thanks to you, I was able to spend an enjoyable day.